Amazon is famously flexible about pricing its items, sometimes changing prices hour to hour. It also instituted a policy that disallows price-matching on most retail items (as of the time of this writing). More importantly, if you ordered an item, and then saw that price decreased, do NOT speak to a customer representative first about price-matching on your original order. Instead, make a new order immediately and cancel/return the original order on your own. If you speak to a rep first, you're likely to find that the new price has disappeared, sometimes only for you.
Context
A couple days ago, I ordered a fancy new Arris SB6190 modem from Amazon. Today I saw the price on that item dropped by $20. That's a pretty big difference. Since my order had not yet shipped, I went on Amazon's chat support and asked for a price-match on the as-yet unshipped order.
I was immediately transferred from front-line support to a "price specialist". Well that was a bit odd, but ok. Said price representative refused to price match, citing the aforementioned policy. Sure, perfectly understandable. I asked the representative to cancel my previous order so I can make a new order. He then lied to me to my face and said that my order was being shipped and cannot be cancelled. I was looking at the order cancellation button all this time on the Amazon web interface, and hit the button right after being lied to. The cancellation proceeded without a hitch.
Dynamic pricing?
The most amusing part occurred after speaking with the representative. When I next went to look at the modem again 5 minutes later, its price has returned to the old, more expensive price from 2 days ago! Quite a coincidence.
Mildly suspicious, I logged out, connected to a VPN to get a different IP, and came back to the site under Private Browsing mode, without being a logged in user. Aha! Behold, the lower price was back again. Once logged in, it again changed back to the more expensive price.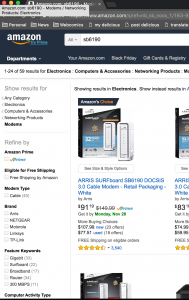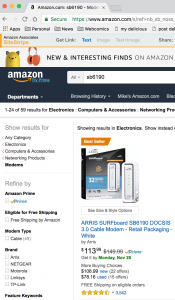 Discussion
I'm not really sure whether to attribute this to incompetence (failed HTTP caching somewhere?) or malice (they deliberately reversed a price change after being told of it).
However, the end result is the same. I know that I bought at a higher price, saw a lower price posted, told a "pricing specialist" about it, was given the run-around about cancelling my previous (unshipped) order, and then immediately afterwards saw the price rise back to the previous level. Either way, something shady is going on.
In the end, $20 hardly matters, but Amazon's business practices here should be discouraged. All along, I've never personally bought into this hype that Amazon is somehow a new way forward for retail. They're using the same old tricks as any retailer of dubious ethics, physical or online.
Conclusion
If you run into a similar situation, don't discuss pricing with their representative in hopes of a price-match. Just cancel and re-buy, and hope they don't swap the price out from under you while you do so.
Epilogue
Don't bother talking to their customer service email either:
I'd like to help you with this; however, our policy has changed and our system won't allow us to issue refund for price difference for any of the items. I'm sorry for any disappointment this may cause. I hope you understand our limitation and restriction in this regard.

We work hard to find the best prices out there and match them for all customers every day. Our prices do change over time. With the exception of TVs, Amazon.com doesn't offer post-purchase adjustments.

However, you can let us know about a lower price by clicking the "tell us about a lower price" link in the Product Details section of some product pages.
My response:
Amazon prices change over the time of 5 minutes? Literally right after I talk to one of your representatives about a discounted price and ask for a match, that discount suddenly disappears? And the same discount still appears if I use a VPN and without logging in? That is an incredibly suspicious coincidence.

I'm not annoyed that you can't match your own price. I'm annoyed because tricking your own customers is a terrible policy.
And of course, the end:
We're sorry. You've written to an address that cannot accept incoming
e-mail.
Because of course, the Amazon customer service email from their rep's own response ("form-feedback@amazon.com") is a no-reply address. Why would anyone want to interact more than once with a rep over email?
Amazon, you have a singularly terrible user experience. You might be heading toward monopoly status, but you are not there yet. Your competitors will have my business until then.